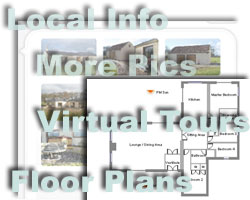 A virtual tour is a series of interactive moving photographs that capture 360 degree views of a property. These are then linked to the ESPC and GSBís websites. Views can be individual rooms or external panoramas.
Unlike traditional still photographs, the virtual tour lets potential buyers see the whole picture by being able to look around the property, zooming in and out of areas of interest. The overall impression is almost as if you are there in person.
The Benefits of a Virtual Tour
» Effective, low cost property marketing
» Viewing times become 24/7 via the Internet
» Property is highlighted on the ESPC website
» Buyers can view all the best features of a property
» Potential viewers are qualified and motivated buyers are encouraged to view
How to get a Virtual Tour
You instruct us to prepare your Virtual Tour and within 48 hours a professional photographer will have shot and created the tour for your approval. Itís as simple as that.